Ellerstina Polo Club, Polo Club de Chantilly, Evviva Polo St. Moritz and Empire Polo Club of Coachella Vallery were the winners in the Quarterfinals of the 2022 POLO RIDER CUP.
In the opening game for the Quarterfinals, Ellerstina Polo Club beat Deauville Int. Polo Club in a thrilling match by 7-9 goals with an impressive performance of Salvador Jauretche who scored seven goals.
In the third chukker, Ellerstina Polo Club was behind the score of 6-4, but two goals from Jauretche tied the match in the fourth chukker. No goals were scored in the fifth chukker. At the beginning of the sixth chukker, Jauretche scored another goal from fault, but Pierre-Henri N'Goumou tied again the match, 7-7 goals.
Juan Pedro Chavanne and Jauretche scored the winning goals for the Argentinian team to reach the Semifinals.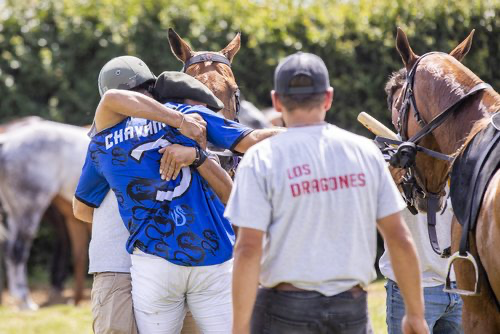 Polo Club de Chantilly won Hong Kong Polo Association in the day's second match by 5-9 goals.
The first chukker ended in a tie 1-1, but one goal from Dorian Bulteau from the field and two goals from Louis Jarrige gave three goals advantage to Polo Club de Chantilly at the end of the second chukker, 1-4.
Brieuc Rigaux scored two goals in the third chukker to close the gap for Hong Kong, 3- 4 goals, but at the end of the fifth chukker, the French team had again three goals lead, 5-8 goals.
Edwin Robineau, who was replacing Jean-Claude Le Grand scored a great goal from the field at the last chukker, so with the final result of 5-9 goals, Polo Club de Chantilly enters into the Semifinals.
Evviva Polo St. Moritz beat Araucaria Polo Club by 12-10 goals in another exciting match during the Quarterfinals. The Swiss team secured a spot in the Semifinals with nine goals from Martin Aguerre H.
Evviva Polo St. Moritz led the first two chukkers, but Araucaria Polo Club tied the match 4-4 after the third chukker. From the fourth chukker, Evviva Polo St. Moritz took the lead again in the score until the final chukker with a final result of 12-10 goals and secured the spot in the Semifinals.